Something New in ADA Signage
Combine traditional ADA signage with a flatbed UV ink digital printer and suddenly the world of ADA becomes filled with possibility.  Background colors can become background graphics.  Graphic themes can be included in every sign in a project. Multicolored maps, floorplans, and evacuation routes are easily rendered in amazing detail. Photographic images, including portraits, or any digital image you can create can now be part of your next signage project.  Design alternatives are limited only by your imagination.  And all this comes at a very reasonable cost. 
On our Tactile Visions Blast-Etched® Series – BE100, BEFG801 and RE650 – UV ink is applied to the surface of the sign after it has been sandblasted.  We can print either a background graphic element or part or all of the raised graphics or both. Standard text color for these products is white.
Our EN400 Series is the basis for the Tactile-Visions Engraved Series.  The UV ink graphic images are printed on the sub-surface of the sign.  The engraved tactile elements are then applied to the face. 
With either process, ADA signage has a new palette emerging with the times.  The environmentally friendly UV cured inks have no VOC's and are suitable for interior or exterior exposure and capable of producing vibrant color.  The curing process on UV ink also produces a highly cross-linked film surface.  Compared to traditional solvent-based inks, this provides improved solvent and chemical resistance properties.  Accelerated weathering tests performed on UV curable inks show a durability of approximately 24 months in outdoor conditions.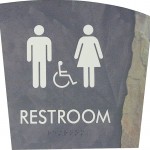 Our most versatile ADA product from a design standpoint is the EN400 Series.  The standard EN400 series features 1/8" Non-glare acrylic with painted sub-surface color/s.  The ADA compliant tactile text and/or graphics are colorfast single ply modified acrylic plate.  Text and/or graphics are raised 1/32" and Grade 2 domed Braille is embedded in the sign face. 
Our EN Visions series provides nearly limitless design possibilities.  The second surface is digitally printed with UV cured inks.  From subtle shadings to multicolored graphic designs to photo-realism, your sign can be customized in any combination of colors you choose.  We can print any graphics file you can produce.  Logo's can be incorporated to "brand" your project.  Custom shapes are always available.   After printing, the ADA compliant tactile text and/or graphics and Grade 2 Braille are then applied to the surface of the sign.